Buoyancy plant Design for floating buoys Multipurpose buoyancy buoyancy
6 types of buoys you should know Buoy or Float or Pontoon are plastic platforms that float on the river or at sea. Intended to be used to support the weight of various items Including water area zoning, etc., which we can classify all 6 types of main buoys in this article. In this article, DAI ICHI PLASTIC CO., LTD. The most complete buoyancy products in Thailand
Line Buoy
Line Buoy is a plastic floating platform with a large oval shape. Used for protection against water sources in the sea, river or general swimming pool The purpose is to clearly divide the proportion of the area such as buoys in the sea. Used for dividing the area of ​​the shipping route Reef buoys in the river Used for dividing the area for jet skiing Or vertical buoys in the pool Used for dividing lanes for swimming athletes, etc., which are considered buoys of this type Can be applied to a variety of applications
Float Buoy / Mooring Buoy
The main buoyancy / mooring buoy is a round floating plastic platform. Used for fixing to a boat or various floating areas. The main buoyancy / boat buoy is made of special plastic that is strong and can float on water. Considered as a floating buoy that is perfect for sailors and those who want to create an area in the water source as a good place to do it.
Horseshoe buoy
Horseshoe Buoy Horseshoe buoy is a floating plastic platform that resembles a horseshoe. Used for supporting items that can be floated in water sources, including wastewater treatment, impeller, water pump Or specific mechanical engine, etc. has high strength and can support a lot of weight. Ideal for industrial plants Wastewater treatment plants, parks and large water bodies
Boundary Buoy
Buoy shows off the boundary of the Boundary Buoy, a floating plastic platform with a long, slender shape. Used to display the territory in the water source. Buoys show the boundary of the area made of special plastic that provides durability. And has a distinctive color Floats vertically Can be seen from a distance Therefore can be used as a deep water level warning as well Ideal for use at sea Or according to water sources that have unequal water levels
Vertical Boundary Buoy
Vertical buoyancy zone Tiny Boundary Buoy is a small oval floating plastic platform. It can be used to divide the boundary along the water source as well. Made from high quality Polyethylene (PE) with a diameter of about 14 cm, which you can attach the rope together as a source of various territories as well.
Floating jigsaw
Floating Jigsaw or Floating Pontoon is a plastic floating platform with a square shape, with 4 ears, can be assembled together by connecting pins, convenient to remove and assemble for moving. Floating jigsaw buoys are made from high quality HDPE plastic (high density polyethylene) which is durable and environmentally friendly. Can be used in assembling docks, bridges, walkways, floating houses, floating toilets, etc. Can be used in both fresh and saltwater. Ideal for hotels, resorts, restaurants, and the general public that needs the convenience and beauty of a waterfront location.
Hopefully it will be very useful for those looking for a buoy. And for those who are interested in all types of buoys You can get advice and purchase at DAI ICHI PLASTIC CO., LTD. Because here we are Manufacturer of good quality buoyancy products. And the most complete in Thailand
Usability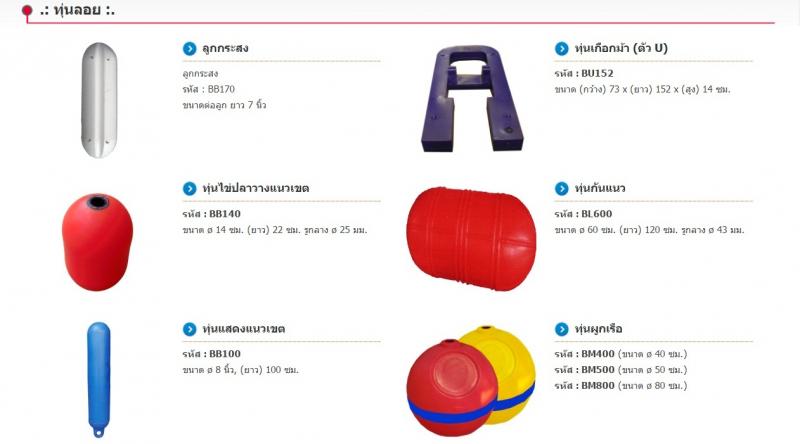 ประเภทของทุ่นลอยน้ำ
1.ทุ่นลอยน้ำ สำหรับจอดเจ็ตสกี
2.ทุ่นลอยน้ำ สำหรับสระว่ายน้ำลอยน้ำ
3.ทุ่นลอยน้ำ สำหรับกระชังสัตว์น้ำ
4.ทุ่นลูกกระสง
5.ทุ่นเกือกม้า (ตัว U)
6.ทุ่นไข่ปลาวางแนวเขต
7.ทุ่นกันแนว
8.ทุ่นแสดงแนวเขต
9.ทุ่นผูกเรือ