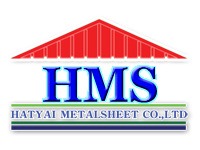 Hatyai Metal Sheet Co Ltd
Business Information
With more than 30 years of experiences and expertise in producing corrugated steel for the rolling shutter, we have expanded our product to corrugated steel sheets for the roof under the Hatyai MetalSheet Co.,Ltd  (HMS) brand.
Hatyai MetalSheet Co.,Ltd (HMS) was established in 2004.  We are the manufacturer which thoroughly select materials,...
Product And Service
Hatyai MetalSheet Co.,Ltd (HMS) is the manufacturer which produces, installs, distributes (retail and wholesale) and provides advices
Product:
Metal Sheet - 22 Colours and 9 corraguate patterns, variaties thickness (straight ans curved sheet)
Strengthen - Gavanized Purlin, flashing, valley tray flashing - Eaves Bird Protector
...